It is Thursday….GREEN THUMB THURSDAY!  Welcome back!  This week I am featuring a post from Mama's Homestead.   Mama is the lovely Nelle Weaver, mom of 6.  She shares on all things homesteading, homemaking and homeschooling.  Last week she shared her post on canning and I enjoyed it; I hope you will too.
Featured
There are a few things you need to do when getting ready to can. After you follow these steps, the next step is to place your jars of food in a water bath canner or a pressure canner to process.
This is an overview of preparing to can, follow a recipe from a reputable source for more details.
Read the post at  Getting Ready to Can
Want a weekly reminder?  Sign up here:
[wysija_form id="1″]
Featured Badge Code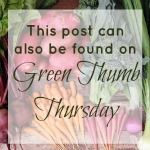 Hop Badge Code