Welcome back to another Green Thumb Thursday.  This week my featured post is from Stoney Acres.  This northern Utah urban homestead has got it going on.  They are sharing backyard chickens to yummy recipes; like their Pickled Beets!
I have never been much of a beet eater myself but according to Dr. Mercola they have a lot of health benefits like: lowering blood pressure, increasing stamina, fighting inflammation, anti-cancer, nutrients, fiber and detoxification.
Featured
From Stoney Acres:  So as an after thought as I was planting the garden I put in about a 12 foot row of beets on the south side of the tomato/pepper bed.  I usually don't have a ton of luck with beets but I thought I'd try them again this year.  Mrs. Stoney loves to have have pickled beets with her salads so I thought it would be nice for her to not have to eat store bought beets this year.  Well the beet crop actually turned out really well.  We got almost 20 pounds of beets from that one row!  So now I had to get busy!
Read the whole post at  Canning Pickled Beets
Want a weekly reminder?  Sign up here:
[wysija_form id="1″]
Featured Badge Code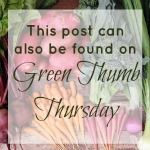 Hop Badge Code